ZINC-COATED SHEET METAL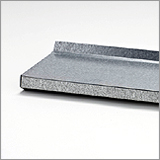 Zinc-coated sheet metal. The term sheet metal identifies a plate coming from the rolling of steel. Considered the hardness of the raw material, this process is divided into several intermediate working steps, during which the thickness of the metal reduces gradually. With the zinc-coating process a protective coating is applied to the sheet, which thus becomes resistant to corrosion.
The zinc-coated sheet metal is suitable for cold stamping (punching) and it is used in all applications requiring resistance (without surface treatments) both to oxidation and to corrosion.
The type of zinc-coated sheet metal that is usually worked at Promid is Z240 (identification code of the coating mass in g/m²) in many thicknesses: from 1,00 to 5,00 mm.
PICKLED SHEET METAL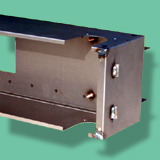 Pickled sheet metal. The sheet metal in the primary state of working, therefore without coating on the surface, is called "pickled".
This type of product is used in all the applications where good mechanical properties, good workability and high hardness are required.
The pickled sheet metal has no protective coating and it offers an excellent weldability, but inevitably it requires a final treatment (which can be: painting, zinc-coating or other).
---