SHEET METAL WORKING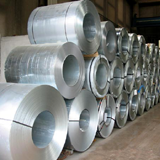 Sheet metal working. The metal working is divided into two different types, identifiable by attributing a value to the ratio between the environmental temperature and the melting temperature of the metal being worked. Depending on this ratio we can identify:
– Hot working
– Cold working
Some typical examples of hot working are:
– the forging, which consists in overheating the metal to make it easily deformable. This very old technique has been modernized with processes that model the shape of the hot metal through a strong pressure with stamps, managed by oil-pressure or mechanical mechanisms.
– the fusion, another ancient technique. It is used to obtain objects of complex or particular shape: the metal, once brought to the melting temperature, is put in the stamp and left to cool.
OUR SHEET METAL WORKING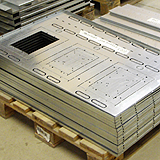 Our working. The cold working is carried out by Promid on steel, copper, aluminium sheet metals, on polycarbonates, on copper bars, on GPO3, selected for the high quality of the materials, as they are subjected to high stress, in this type of working.
The workings performed by Promid are:
– sheet metal punching
– sheet metal shearing
– sheet metal marking
– sheet metal bending
– sheet metal welding
– application of inserts on the sheet metal
– sheet metal thread
– sheet metal surface treatments
---