OUR WORKING OF COPPER BAR PUNCHING
Copper bar punching. The copper bar punching is carried out through consecutive steps: the first one consists in shearing the bar to measure, as well as creating geometric figures by pressing on a flat metal surface, using the combined action of a die and a punch.
By analyzing the single steps of the punching procedure, at first the punch lowers until it comes into contact with the copper bar which deforms and bends and then it penetrates into the die; finally, when the breaking tension is reached, a controlled fracture is generated, thus causing separation.
The use of a bar clamp can avoid the same bending upwards, especially during the punch extraction step, and it can also prevent the formation of sharp or irregular edges.
FURTHER SPECIFICATIONS ON THE COPPER BAR PUNCHING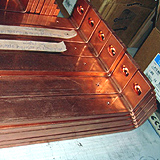 Further specification. The correct tolerance between the die and the punch is fundamental during this type of working. What results from this will be mechanical details of unexceptionable quality, as well as drastic reductions in tool wear and tear and reductions in the number of machinery stops, which are often due to breakages of various nature during the production cycle.
The use of a cutting-edge punching machine, controlled through CNC management by qualified and skilled staff, supported by a competent technical office, the high flexibility in production, combined with a high quality level achieved, allow Promid to produce complex mechanical parts, perfect in every point of view, at prices that are certainly competitive.
Finally thanks to the punching machine it is possible to perform mechanical workings whose level of complexity makes them difficult to achieve through other types of machineries, specifically: the ribbing, thread, drawing, flaring.
---