APPLICATION OF INSERTS AND STUD BOLTS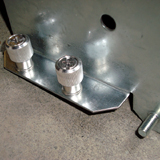 Application of inserts and stud bolts. The use of inserts and stud bolts to assemble metal parts can be considered as a less invasive solution compared to the welding and it can be carried out even on semi-finished products, as it is a type of working that does not require high overheating of the parts.
The inserts have reached a wide diffusion, also because they allow to install a thread in sometimes not very comfortable positions, or in reduced thicknesses: the inserts are elements that allow to connect two parts in which it could not be possible to proceed in any other way.
The application of inserts in the sheet metal is performed in many ways and it includes a virtually infinite range of accessories.
OUR APPLICATION OF INSERTS AND STUD BOLTS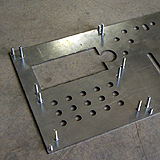 Our application. Our company meets the most common types of applications, with a wide availability of inserts. Many procedures are used for their application:
• application by discharge of pin condensers, threaded pins, nuts and more.
• application of threaded inserts through oleo-pneumatic pull-inserts and/or riveting machine, with a working range from M3 to M12. The operation requires very short times and at the same time it offers excellent sealing results, both in traction and compression.
• application of self-hooking inserts by means of a semi-automatic machine, which guarantees quality of installation and increases significantly the hourly application volumes, maintaining at its disposal a wide range of products and accessories (captive screws, bushes, cage nuts, nuts, stud bolds, spacers, etc.).
---