STRETCH WIRE MESH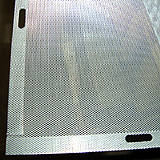 Stretch Wire Mesh. In order to realize the so-called stretch wire mesh, a procedure is used which consists in the cold engraving of the sheet metal in sheets, using shaped knives which define its width and depth. The stretch wire mesh is produced on a continuous flow belt, eliminating working waste and weldings. The advantage offered by the stretch wire mesh is not to deteriorate, therefore there are no material losses, contrary to what happens in the punched sheet metal. The stretch wire mesh offers functionality, safety and practicality: it is ideal for covering canalizations and areas that require aeration, therefore suitable for pipes (gas, electricity, water), both industrial and residential, as well as for coverings of ditches or underground channels.
The regular aesthetic development, therefore the beauty of the product, allows its use also in domestic environments, such as terraces – for the construction of railings – and fixtures – to create protective shutters from unwanted accesses or light. We can affirm that the applications of this particular material start from the industrial use up to the construction and architectural use.
STRETCH WIRE MESH – THE USES AND OUR WORKING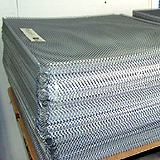 The uses and our working. In the electromechanical and electrical sector, the stretch wire mesh is widely used and important protection functions are attributed to it, thanks to its strength. It also offers excellent heat dissipation characteristics, so it can avoid overheating moving mechanical parts, electrical and electronic, helping to ensure safe use and durability over time.
In our warehouse there are always three types of mesh and each one identifies a different degree of IP protection, according to the mesh width.
– IP20 offers protection on solid bodies larger than 12 mm (average finger size)
– IP30 offers protection on solid bodies larger than 2.5 mm (average size of the screwdriver)
– IP40 offers protection on solid bodies larger than 1 mm (average size of the metal wire)
---