SHEET METAL WELDING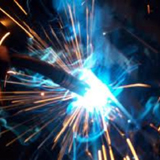 Sheet metal welding. The welding is the fundamental process to guarantee a high-quality finished product. It makes possible to join solid parts permanently with each other, with or without filler metal. The welding is realized in a permanent connection, which guarantees almost total continuity among the characteristics of the material of the joined parts. After the welding operation, cleaning operations are carried out, to avoid that the welding oxides not removed favour the emergence of interstices, which may compromise the quality of the welding and of the product itself.
There are various types of welding, which differ according to the machinery and specific processes. However it is possible to identify a generic process that is valid for all cases: initially it is necessary to prepare the two borders to be welded, through the caulking operation, after which the joint area must be heated.
The temperature may vary, depending on the welding process that will be performed.
We speak of AUTOGENIC WELDING when the joint is heated up to melt the two edges together, or through a homogeneous filler material.
We speak of HETEROGENEOUS WELDING or BRAZING WELDING when, after the joint has been heated, heterogeneous filler material is melted on it which has a lower melting point.
OUR WORKING OF SHEET METAL WELDING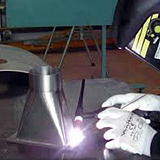 Our working. The types of welding operated by Promid are the following:
• the wire welding (MIG-MAG), which is suitable for joining parts that require strength, so a high mechanical seal.
• the gas tungsten arc welding (GTAW), which is suitable for joining parts that require a higher level finishing and not a necessarily high mechanical seal.
• the spot welding, which happens through induction and which is mainly used, as the word itself says, to "pin" parts or mechanical parts in which the characteristics of the welding types already mentioned are not needed.
The basic principles to be followed to get a good welding are:
• the slag purification of the melting area (in order to avoid the oxidation of the joint)
• the welding process in an atmosphere as much as possible without oxygen (therefore inert), again due to oxidation problems.
---