OUR SHEET METAL PUNCHING WORKING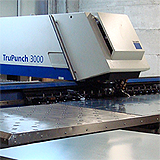 Sheet metal punching. The first step consists in applying pressure on a flat metal surface to create geometric figures, thanks to the combined action of a punch and a matrix.
We analyze the steps of the punching process: during the first step the punch drops until it comes into contact with the sheet metal, which deforms and bends, as it enters the matrix; subsequently, when the breaking tension is reached, a controlled fracture is generated and the separation takes place.
The use of a mechanical sheet metal stripper allows to avoid the same irregular bending upwards during the return step of the punch and it prevents the generation of irregular and/or sharp edges.
FURTHER SPECIFICATIONS ON THE SHEET METAL PUNCHING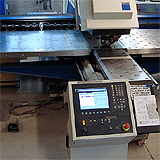 Further specifications. During this type of working, the correct tolerance between the die and the punch is fundamental. The consequent results of a perfect tolerance can be found in the products obtained, which show themselves as mechanical parts of unexceptionable quality and in the drastic reduction of tool wear and machine downtimes due to breakages or misalignments during the production step.
The use of modern and cutting edge punching machines, the use of qualified and skilled staff and the support of a competent technical office, the great flexibility in the production capacity combined with a high level of quality achieved allow Promid to make complex mechanical parts at optimized prices, therefore competitive.
The work done by the punching machine offers the possibility of realizing mechanical processes that are difficult to achieve with other types of machinery, for example: flaring, ribbing, bending. thread, drawing
---