POLYCARBONATE – THE USES AND OUR WORKING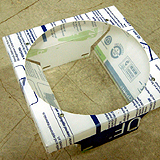 Polycarbonate. The uses and our working. Polycarbonate is a polyester of carbonic acid. The distinguishing abbreviation is "PC". It is endowed with particular characteristics, among which the thermal and mechanical resistance, electrical properties, hardness and transparency. Polycarbonate can resist to contact with petrol, oils, greases and also aliphatic hydrocarbons, alcohol, mineral acids and water below 70°. The mechanical properties of polycarbonate give it stretch and load qualities, while the impact and bending resistance make it the substitute for glass par excellence, adding the characteristic of being cold worked. Historically the first studies on this polymer date back to the 30s by DuPont. However commercial exploitation comes only around 1960, thanks to the work of General Electric and Bayer. Today the most widespread applications of polycarbonate can be found in the following sectors: electronics, for the realization of CDs / DVDs and computers; optics, for the production of glass lenses; automotive and transports, for the production of helmets and covers for lights and lamps; civil sector, for coverings, roofs, fixtures and architectural design; medical sector, for making dialysis, early childhood and cardiac surgery machines; military sector, for the realization of bulletproof vests and anti-riot shields.
Polycarbonate is always available in our warehouses, in sheets (with protections on both sides) of 1000 × 2050 mm and with thicknesses of 2 and 3 mm.
GPO3 – THE USES AND OUR WORKING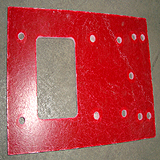 GPO3. The uses and our working. Laminated sections based on glass material and anti-trace polyester resin, GPO3 is a self-extinguishing, stratified insulator with good mechanical and dielectric characteristics.
It is widely used as an insulator in the setting-up and construction of electrical equipment. GPO3 is defined as glass-polyester and it has non-common resistance properties both to flame and to high temperatures, and water resistance. It also shows characteristics of total compliance with international emission rules, with regard to gas and fume emanation. It is particularly suitable for use in the electrical sector, especially in difficult environmental conditions.
The thicknesses always available in our warehouse are 1.5-2-3-4-5 mm.
---