ELECTRONIC AND ELECTROMECHANICAL ASSEMBLIES
Electronic and Electromechanical Assemblies. Another independent department inside PROMID deals with the electromechanical assemblies, both for uninterruptible power supplies, also called UPS, and for aspects related to the assembly of battery cabinets.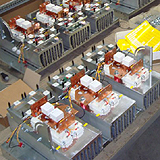 In both cases the staff takes care of the assembly of modular frames, after which mechanical parts in galvanized sheet metal have been assembled, which in most cases come from our sheet metal working department. The next step foresees the bench assembly of the parts and the semi-finished products of which the machinery must be provided: proceeding in this way many of the workings that could in some way be dangerous or uncomfortable are overcome, for the benefit of the whole production process, both from the point of view of timing and quality.
The last step of the assembly consists in the insertion of the semi-finished products previously produced inside the modular structure, using special lifting devices if the weight requires it.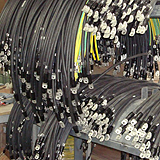 It is important to specify that each production step is made both according to the technical specifications provided by the customer and to the international regulations on the matter. An efficient and practical warehouse management, combined with a well-distributed logistic system, helps greatly to simplifying the work of the departmental workers, as it makes elemental the traceability of each of the components, which are always systematically available.
Once the mechanical assembly of the machinery is finished, it is possible to proceed with the wiring operations, which can be made with flexible bars, multipolar signal cables, unipolar power cables and flat cables, depending on the case.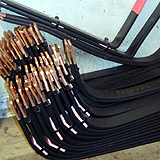 The realization of the above-mentioned bars is made manually, taking advantage of a specific cutting station, while the drilling operations are made by an oil-pressure punching machine.
How to realize the cablings is different from all this as in this step it is used an automatic CNC machinery called "cut-strip", which takes care of cutting and stripping multi-polar and/or unipolar cables with variable sections ranging from 10 mm² to 240 mm².
The cable crimping is made through oil-pressure hydraulic crimping machineries or manual pliers and together with the flexible bars it can be marked everything as indicated on the wiring diagram. This step is followed by a careful control of the work made up to this point by the operators. The control includes the drawing up of a separate identifying list of the materials and components used.
In the last step the side panels are closed and the pre-shipment packaging of the realized products or machineries is made.
---