COPPER PLATE WORKING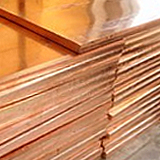 Copper Plate working. Corrosion resistance, electrical conductivity, malleability and ductility are characteristics that make copper one of the most versatile materials in the world, as wide as its range of applications is. With the use of over 16 million tons every year, copper has become one of the main materials for countless producers and companies.
Many types of alloys and compositions obtained with very different working procedures exist precisely because copper is suitable to perform functionality in a very high variety of products.
The uses in which the copper is used differ greatly due to the multiple characteristics of the material itself: the high electrical conductivity makes it suitable for the realization of electrical equipment, therefore it involves sectors such as naval and air industry, automotive, medical equipment, computers, telephony and electronics, just to name a few.
The high resistance to corrosion and the great thermal conductivity are the major incentive for companies of heat exchange systems to choose copper for the realization of their finished products. This is why pumps, valves, radiators, hydraulic pipes, refrigeration units and gate closures are just some examples of products belonging to sectors where copper is considered a precious resource. Ductility, malleability and corrosion resistance allow to successfully use copper to create products that fit into difficult environmental situations: the construction of tanks, oil platforms, containers, coastal power plants or in interconnected piping and hydraulic systems, the use of copper proves to be the optimal solution, as it is able to maintain its integrity over time.
OUR WORKING OF COPPER PLATES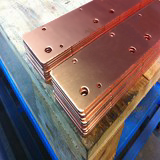 • Copper Plate Punching
• Copper Plate Shearing
• Copper Plate Marking
• Copper Plate Bending
• Surface Treatments of Copper Plates
The quality standards for copper working achieved by Promid allow us to offer high quality products at advantageous prices. The use of the best copper alloys, the technical skills of the staff, the commitment and the use of numerical control machines allow us to always maintain an excellent quality standard and the extreme competitiveness of our prices.
---