COPPER PLATE SHEARING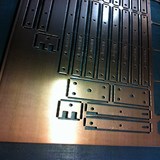 Copper plate shearing. The operation of separating a copper plate by means of a punch and a die inserted into a stamp falls within the set of the cold working of the laminates and it is called shearing. The stamps can be designed by us and made of steel. The stamps for the shearing of copper can be defined as recovery, block or progressive stamps and, if necessary, multipurpose, in case of high production quantities.
To share copper plates, the force impressed on opposing blades is used: the shear system can be of small dimensions, even usable by hand, and can even use industrial shears, which can separate copper up to 3 cm thick. Using latest generation mechanical presses it is possible to realize a very high precision copper shearing.
The copper plate shearing has the purpose to obtain finished metal parts to be used in many industrial sectors: the operations of copper plate shearing can be accompanied by activities of bending, through which objects suitable for use can be obtained, maintaining their thickness and resistance unchanged.
FURTHER SPECIFICATIONS ON THE COPPER PLATE SHEARING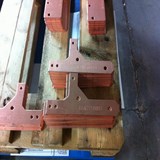 Further specifications. The copper plate shearing is an easy but essential operation to allow the use of this precious material at various levels. In architecture and building, copper is often used to make covers, rain pipes, roofs, eaves and many other elements of tinsmithing.
This metal is appreciated for the preservation of its physical characteristics, but also for its colour, which once exposed to atmospheric agents undergoes aesthetic transformations over time: first it darkens, then it gradually takes a darker colour, finally with oxidation it becomes progressively green.
Widely used by artists, artisans and designers mainly for its easy workability, as well as for its colour, copper is the ideal material also for ornamental uses: you can easily get from it frames, medals, plates and furniture items.
---