COPPER BAR WORKING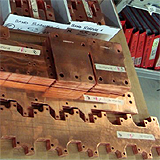 Copper bar working. The copper is an extremely malleable material; therefore it can be easily processed with cold procedures, through tools of high commercial diffusion.
Cold working, often handcrafted using a hammer, tapers and bends the copper, but at the same time "work-hardens" it, that is it makes copper harder, then subsequently it is more subject to breaking. To prevent it from breaking, it is necessary to heat the manufactured product, bringing it up to 500 degrees, and let it cool naturally or by dipping it in water. It is important to consider the fact that every time a heating process is performed, a consequent weight loss is caused, caused by superficial oxidation.
In order to hook two copper semi-finished products, the seaming is used, a system of reciprocal and consecutive bending.
OUR COPPER BAR WORKING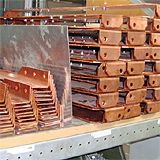 Our working:
– copper bar punching
– copper bar shearing
– copper bar marking
– copper bar bending
– copper bar thread
There are further methods of copper cold working, from Promid not made, but which we also quote for completeness. The drawing consists in the deformation of cold copper plates using wooden stamps, which is generally done manually. Through the tin-plating the copper is covered with a thin layer of tin, overheated and then melted with the flame of a gas torch, which prevents the creation of poisonous compounds that can settle between copper and acids. Finally, the chasing, mainly done by artists, is a type of working generally made by hand using tools for perforation and carving, which gives aesthetic and artistic value to the product.
---