COPPER PLATE MARKING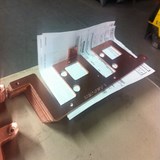 Copper plate marking. The need to identify through a code every product that is in the warehouse has allowed the development of technologies that can engrave the surface of metals, in this case the copper. There are many methods to mark copper: the best known method, adopted by Promid, is that of percussion copper marking. The copper marking systems adopted by Promid allow fast operations and use tools that can be programmed using CNC numerical control units. Their advanced technology allows to perform the operation with extreme precision, creating permanent and indelible markings.
The work of marking copper plates is performed by means of an electropneumatic "head" which operates on a pantograph. According to the speed set, the design of the copper marking can be made in straight lines, broken lines or even in points. In addition to numbers and letters it is possible to reproduce trademarks, as well as the marking of mandatory texts required by law: on certain types of products it is necessary to enter codes and/or legal information.
The copper plate marking operation does not include consumer products, so it is an economic and effective technique that can fulfil the numerous needs of modern companies. Just to name a few: the aesthetic requirements, the traceability of the products being processed or in stock, the recognition of the product to combat counterfeiting and finally the easy customization of a model or a product.
FURTHER SPECIFICATIONS ON THE COPPER PLATE MARKING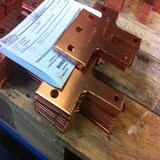 Further specifications on the copper plate marking. The copper plate marking, made through CNC numerical control units, can be inserted in the company production line with all the benefits that this implies: performing the copper marking is easy and not expensive. Furthermore the repeatability and speed of the process require very short operating times, which have a very limited impact on the production times of finished product.
Also in this case it is possible to appreciate the workability and ductility of copper, certainly one of the most versatile materials in terms of sectors of application. Due to the large quantity of uses, the copper marking represents a great particularity, both for the uses and for the provisions of the law.
Actually the copper plate marking is always practiced. It was often called "engraving", referring to the works made on this material by artists from all over the world. Think of the jewellery, ornaments, pots, crockery, coins: each of these uses has always required a working on the copper surface, so that it could be distinguished from the others. The working was done manually by the engravers, who worked with sturdy bits, cold and only later they started to use overheated tools or stamps.
---